I have wanted to photograph James for the past year. I was captivated by his artistry and uniqueness. He reminded me of a rock star from the 70's; wild, young and free. He wore clothes that could've been stolen from Hendrix's or Prince's closet. There was an energy that pulled you in and begged to be explored. On October 9, 2018 I got the opportunity to do just that.
"This is my world." he said as I looked around the room of an artist. Guitars, photographs and clothes decorated his creative space. Moments later his son, Liam, runs into the room. I watched as his already big smile grew larger. "He was on his way to sleep until he heard me step out of the door." He explained. He placed a shirt on him that resembled something he'd wear as he told me stories about him. It was at this moment I realized the impact his son had on his life.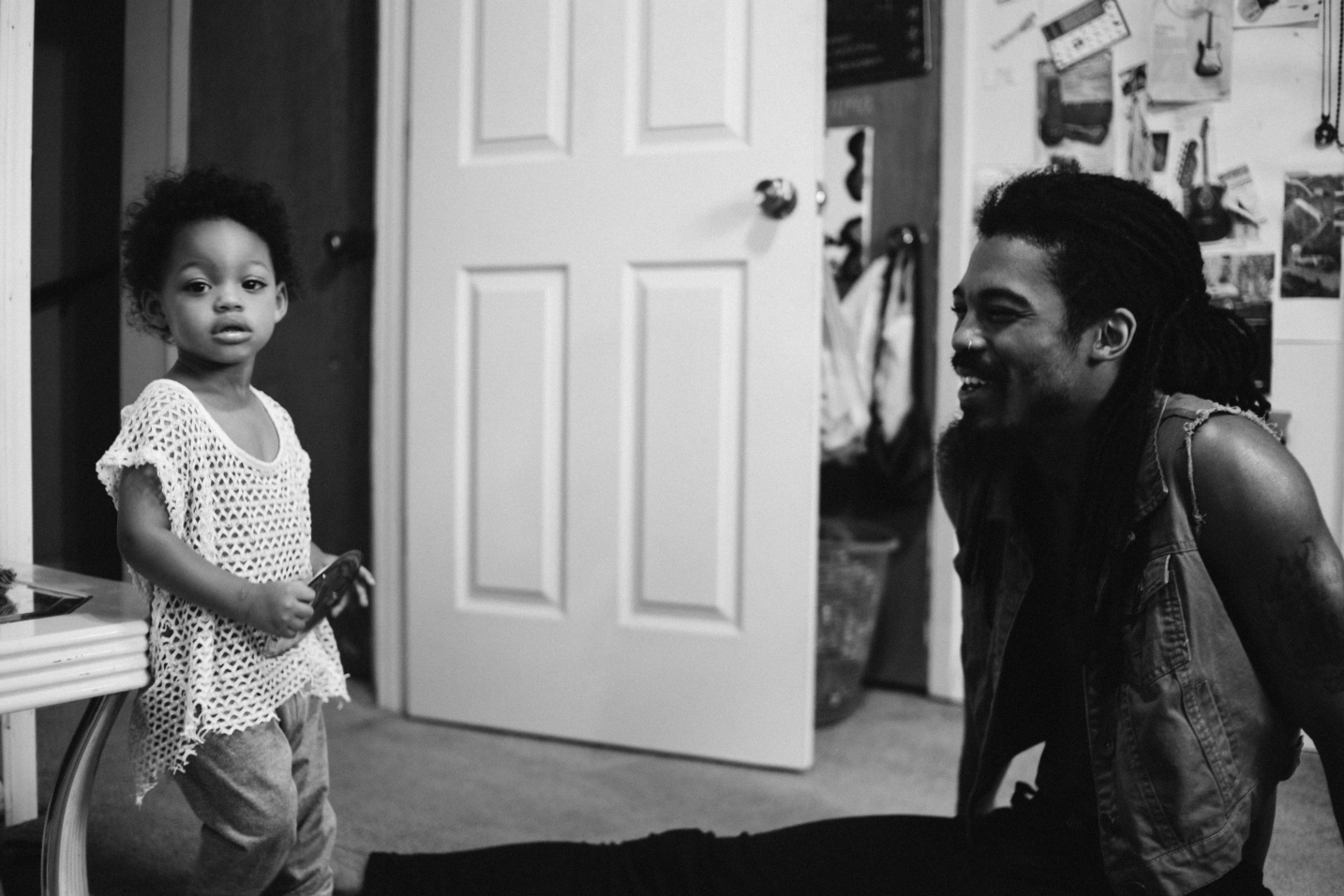 The news of his son came when he least expected. He wasn't financially set nor had he fully found himself. He didn't have the answers, but he found a way. I had expressed to him that I couldn't wait to have kids, but I wanted to have a nice home for them. I want to be as stable as possible. "Kids have an understanding at this age, but not fully. He doesn't see what you don't have. He sees you." Subliminally I feel he was telling me to cherish what I have instead of what I don't. He'd offer much more advice throughout the day.
Immediately I felt that we were developing a bond. As his son pulled him by the hand into a different room of the house I took a closer look at his room. It became clear that his life story was posted on these walls. He came back in and I asked why hadn't he shared his story before.
Still sporting a smile he sat on the floor and we talked as if we'd known each other for years. He pointed out many prominent things in his room as if it were a museum. Each item had meaning and purpose. It was as if the room was sectioned off into different eras, creating a transformative experience from Hip-Hop, Soul and Rock. These items not only defined his interests but his transformations as an individual over the years. If you looked beneath the photos, you'd see lines and markings. Proving to be the most revealing aspect of the man.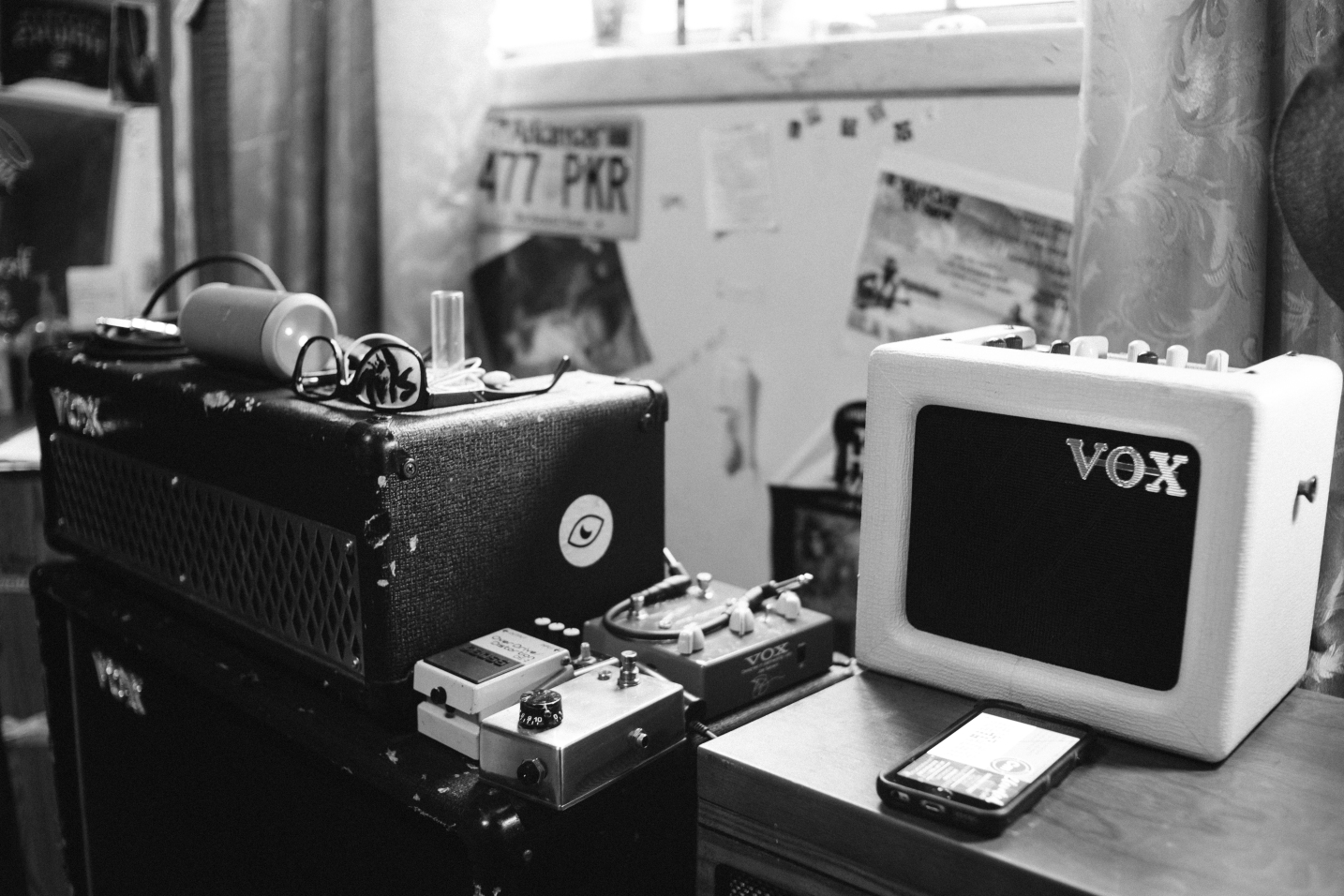 Finding unique ways to express himself seemed to be a lifelong thing. He'd pull out old journals, each containing a closer glimpse into his mind. His thoughts of his status and spirituality were something he wrote about quite a bit. I got the idea that he was always considered different and maybe struggled with belonging.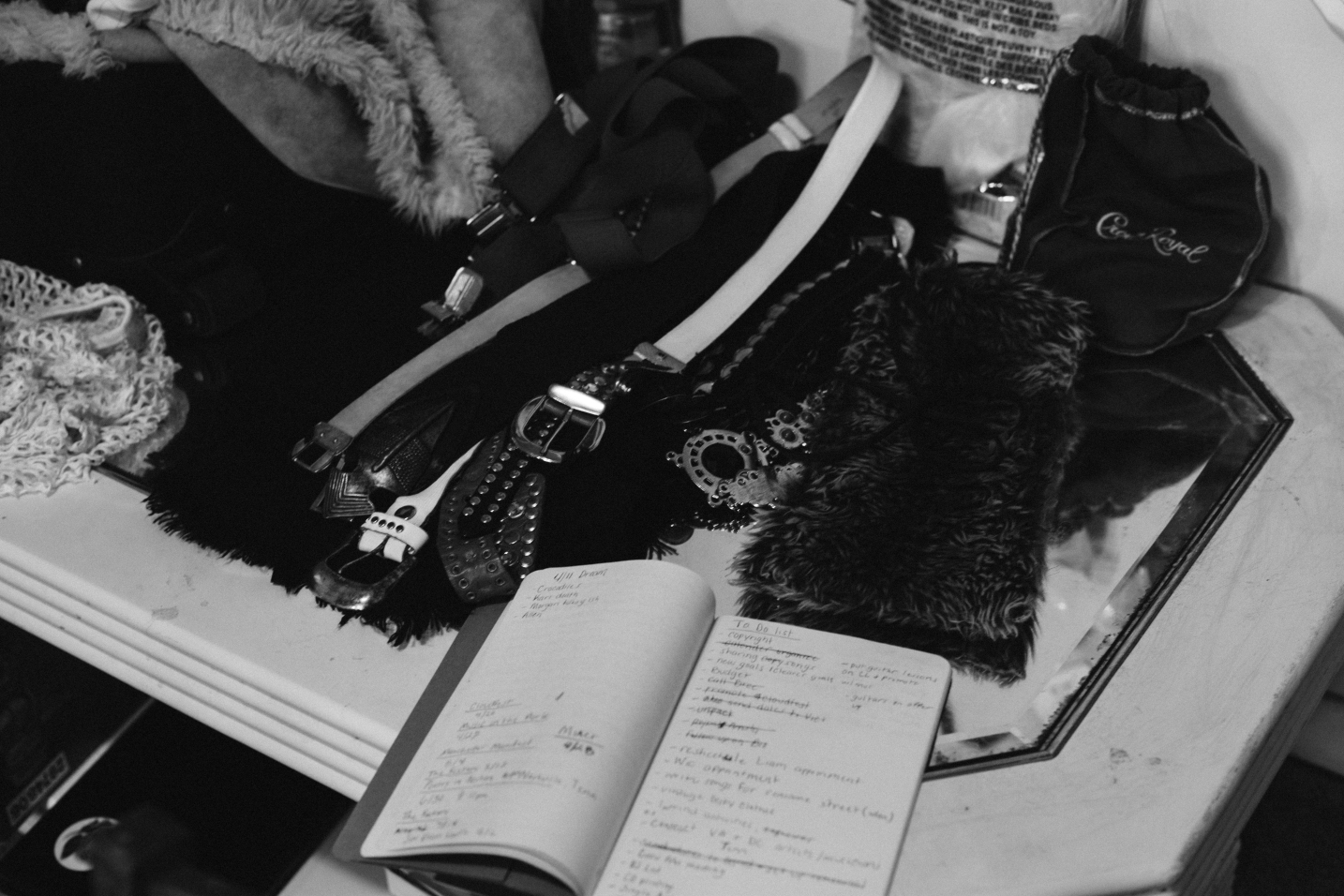 Admirable to say the least. I expressed to him that he mustn't lose that trait. In my mind the best artists were always the ones that stood for what they believed in. They were unapologetic in their approach even if it wasn't always right. For the first time his smile disappeared. "I have to get serious and stop playing. I want my grandmother to see me play my material. She's let me stay here and play my music. I want my son to be proud." I'm not sure where his mind truly went, but it was the one time he seemed serious.
One of the last stories he shared with me was about a day in Atlanta. James shared that he was searching for a job. He came across an older homeless man near the train station. He was asking for spare change. "I saw him and thought I'm going to help. I had twenty dollars and I remember that I spent 10 on cigarettes, I don't know why I spent that much on cigarettes since I was broke, but I did. I gave him the rest and he told me to sit down. He told me that you see the world differently. It was crazy because it was as if he knew me. Everything he spoke of happened. They say a rock star sells his soul to the devil and I guess I did, but it wasn't a devil. It was an angel." I listened on as he continued to reflect on how the moment impacted him. He never saw the man again despite going back to the same location that he met him at. It's my belief that we all have a defining moment in our lives. This was clearly his.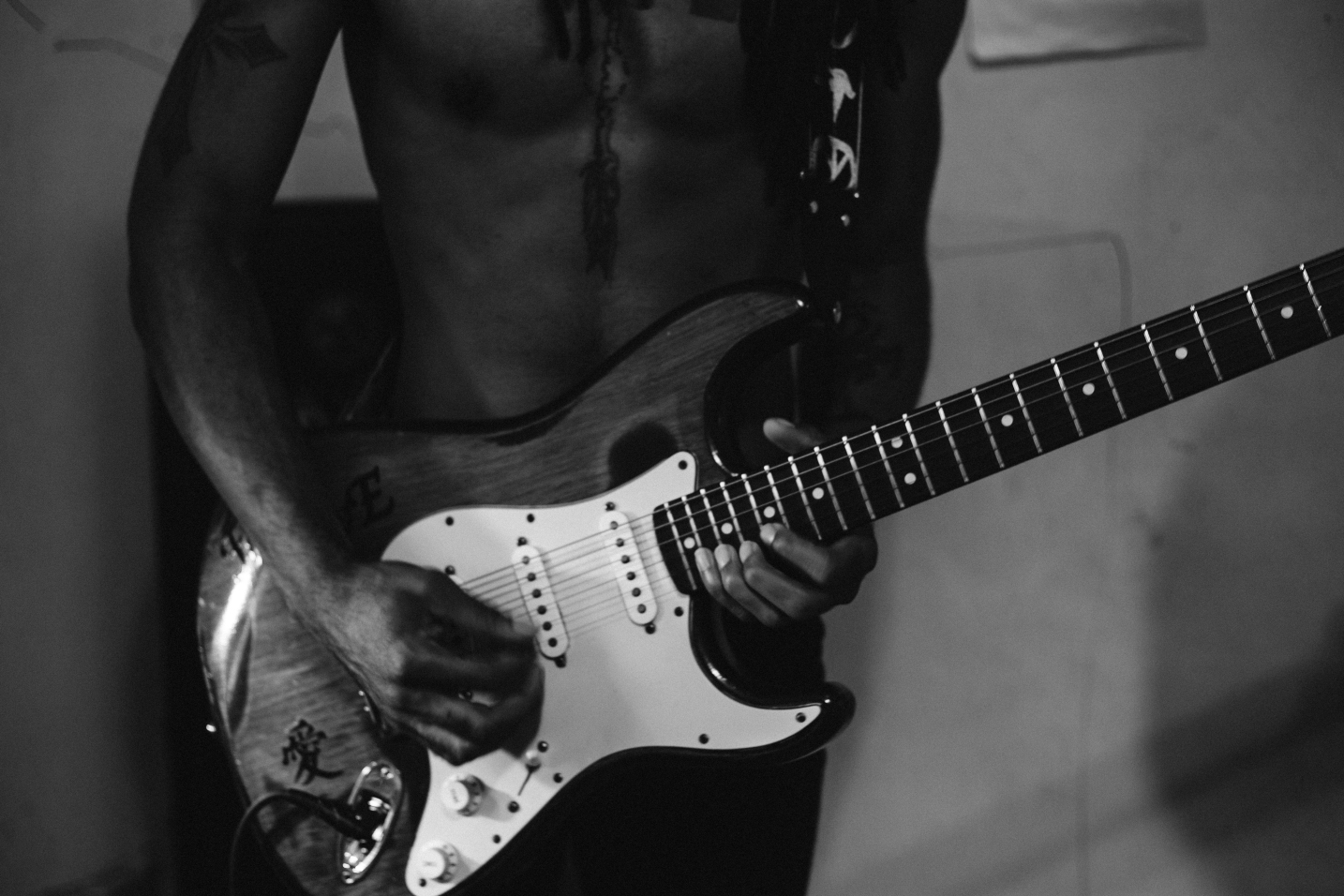 I was preparing to leave when he stopped me. "I'm going to shave my mustache and maybe you can catch that? Like how Maxwell was in the mirror." I laughed and pulled my camera back out. The funny aspect was that he wanted to see if he'd look like a kid again or an old man without a mustache. I took a closer look at the mirror before he moved it to the floor. It was almost completely covered with messages and notes. I asked him what the mirror represented.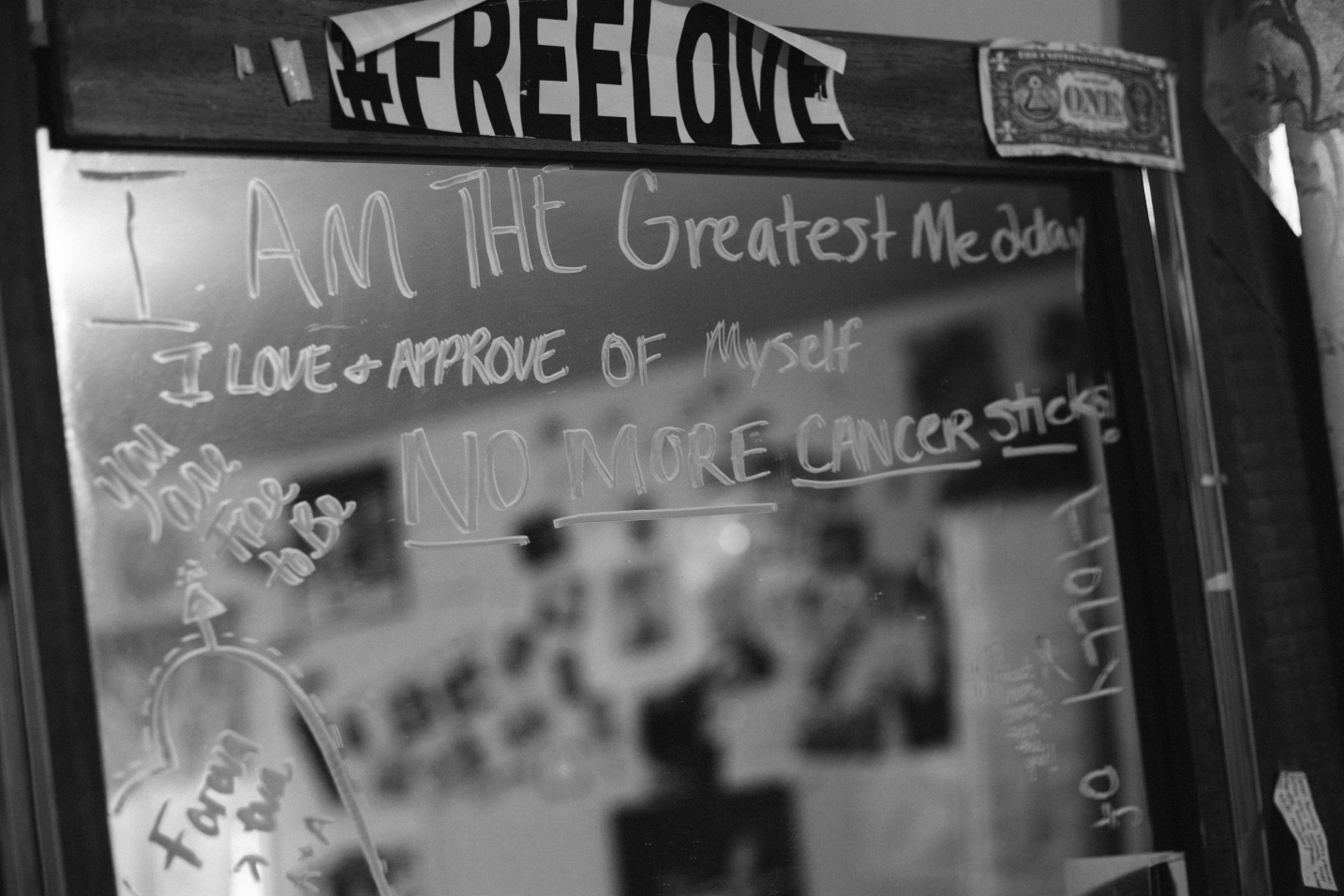 If that isn't the sign of a rock star, I don't know what is. He shaved the mustache and laughed while looking in the mirror at himself. "I look weird. It'll grow back in a couple of days though." This perfectly illustrates the spontaneous life of James.
Nothing is what it appears to be. On the surface one would say James is symbol of sex and nothing more. However there is more to the man that what's on the surface. James is a man with a story. He's a father determined to be an inspiration figure to his son. Lastly he's a musician with a unique vision to offer the world.